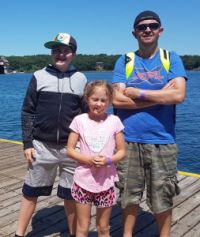 Hi everyone,
My name is Graeme McGaw and I run Book Series In Order. Books are my life and reading is my life. That's me pictured with my kids – both of whom are big readers too!
My son currently loves the Diary of a Wimpy Kid series while my daughter is working her way through The Babysitters Club. One of my favourite moments in life was when my son searched for the order of Diary of a Wimpy Kid books, and came in all excited "I found your site!!!! And it's so helpful!!".
I just wanted to create this page to let everyone know a little bit more about me and the website. I was born in Scotland and lived there until 16 years old, at which point I moved to Canada. I am based in Ontario.
First of all if you'd like to link to us via a graphic on your website or blog, you can display the below image: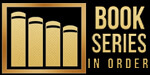 By using the code below. Just click "Copy" to copy it to your clipboard:
If you prefer a simple text link like Book Series In Order then you can use the following HTML code:

<a href="https://www.BookSeriesInOrder.com">Book Series In Order </a>

Truly appreciate people spreading the word of the site!
I've been a reader since I was a kid; discovering Enid Blyton at an early age. I just couldn't get enough of her books. I practically read Enid exclusively; although of course had times for other classics like The Hardy Boys and Nancy Drew.
I've been involved in the book industry for many years, working at and with various libraries as well as managing various book websites and newsletters.
Book Series In Order started due to libraries wanting to know the order of books. Librarians and libraries I worked with knew about my knowledge of books and would often come to me asking me "Are any of John Grisham's novels connected or can they be read in any order?" and "What book comes after Die Trying in the Jack Reacher series?"
I set it up primarily as a resource for the libraries I work with however it took off and now thousands of librarians and libraries every day use Book Series In Order as a reference guide.
The website has over ten thousand authors listed on it. We add approximately 500 new listings per month of authors and series.
Due to work with libraries I have connections with ISBN services which allows me to keep track of any and all new books that are ever created and they are added into our database. Even if your aunt on a whim one night writes a short story and publishes it and no-one reads it; it will be in our database and ready to add.
Our book listings are checked regularly for any anomalies etc. With all the librarians using the database if they discover an issue don't worry they will let me know! It can be something simple like the original publication date is referring to a later copy, or a book has an alternate title that we don't have listed in the database. I'll get notified of that and we will get it sorted.
I have three separate people – myself included – who work on the database on a regular basis to keep it completely up to date. I also have a network of thousands of librarians who refer to it daily. There are rarely issues but when anything pops up I can promise you it gets fixed within 24 hours.
We list the publication order of all books and if the chronological order is different, we will either add a note if it is something simple such as Book H is a prequel to the series or provide a separate listing if the chronological order is a little more complicated than that.
I also have a team of writers made up of librarians who write the biographies of the authors and series and are required to read the books they are referring to prior to writing. These librarians are also able to suggest edits and additions for content already existing on the website.
Thank you for visiting the site. You can contact me at graeme@bookseriesinorder.com with any and all questions or use the feedback form at the bottom of the site.