Book links take you to Amazon. As an Amazon Associate I earn money from qualifying purchases.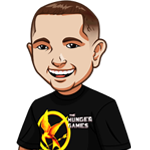 Well, last month I mentioned I had read a Harlan Coben book. That was at the end of March and I couldn't put it down.
That was the second Harlan Coben book I read. Hold Tight was the previous one and then I read Tell No One.
What else can I say except – um yeah, I was hooked.
After reading that book I could do nothing all month EXCEPT read Harlan Coben books one after the other. I was absolutely hooked. Before I go any further head on over to the Harlan Coben section of Book Series in Order, and get yourself some of his standalone novels. Holy crap they are good.
I haven't started the Bolitar series yet although I probably well eventually. But yeah – his standalone novels are second only to Linwood Barclay in terms of just how darn good they are at telling a story.
Miracle Cure: This was Harlan Cobens second novel. When I read some reviews I was a bit wary. They talked about it being his second novel, and it was "rough". I needn't have worried. Yes it shows its age as aids is all the rage at the time and it's about people who found a cure for the aids virus – but it's still an amazing read. One thing I really liked was 2-3 chapters before the "whodunnit" was revealed – I'd figured it out. That is rare for a Coben book and it was very satisfying to read it and know I was right. Even better – it's the sort of ending where you're looking forward to reading it again knowing who was behind it all.
Gone For Good: As is typical for Coben, twists upon twists upon twists. You just can't figure it out for yourself – best to go along for the ride. Wills brother Ken disappears, but 11 years have passed and now he is apparently still alive. This was a very good book where everything comes together at the end in an amazing yet satisfying way.
No Second Chance: Dr. Marc Seidman wakes up in a hospital bed. All he knows is he was shot, his wife was murdered, and his 6 month old daughter kidnapped. This one goes at a fast pace and was quite the ending. Possibly the only Coben book where I sort of guessed what was happening and who was behind some of it – but I still didn't have all the pieces together.
Just One Look: This one was amazing. Mother of two children Grace Lawson gets pictures developed – but one of the pictures isn't what she submitted. It shows 4 strangers – one of which looks vaguely familiar – and the story unravels from there.
The Innocent: 9 years ago, Matt Hunter accidentally killed a man. Now – everything is going well. He is married and his wife is pregnant. They purchase two new camera phones together. Then he recieves pictures and video from the camera phone that – well, not exactly what a loving husband would want to read. This one was okay – I've read better – but I still enjoyed it.
That's all I read in April 2014. I'll be back in a month with updates. What did YOU read last month?
Book Series In Order » Blog »