Book links take you to Amazon. As an Amazon Associate I earn money from qualifying purchases.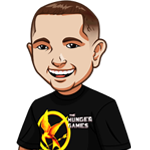 Whew – the Harlan Coben train continued this month, as I decided to go through the rest of the Harlan Coben Standalone Novels. Man I'm so glad I have a site like this, so I can easily bring up a list of all of the Harlan Coben books.
Makes it so much easier.
Here's the list of books I read in May 2014 and as always I'd love to hear what you read – comment below:
Play Dead: The first book Coben wrote. A fascinating book with a completely different perspective – in this one there is no main narrator. Instead Coben tells the story, having every character narrate slightly and having inner monologues. What makes this one really different though is the way Coben presents the mystery – he keeps teasing you with it and teasing you. Unlike other books where it's like a discovery process – Coben sits there with all the secrets, slowly revealing them to you. I don't know if I could read books like this all the time – but man, this was a very different read and I LOVED it.
The Woods: The main character is Paul Copeland, and 20 years ago at camp his sister was murdered. But now everything is being dug up – both figuratively, and literally. Fantastic.
Caught: This one was amazing – a sex predator is caught in a sting, but there seems to be more to the story. This one just hooks you as they all do, and I really liked it.
Stay Close: Probably one of my favourite Coben books, about a former stripper who is now a suburban soccer mom, but her past comes back to haunt her. There was a few disappointments in this book – two characters who I felt were rather unrealistic(yet still freaky) – but the ending was well worth it.
Six Years: It's been 6 years since the main character, Jake Fisher, made a promise to his old lover Natalie that he would leave her alone. That was on her wedding day. But what happens when her new husband dies, and Jake attempts to contact her only to find out there is no history of the wedding, and no-one can confirm it ever happened? This was a blast.
Missing You: This is one of those books where you sit back and applaud Harlan Coben. The man is just a genius, and the things he can write about are amazing. I won't say more but this book is just crazy with some of the things going on in it. I loved it.
Of course it wasn't all Harlan Coben for May. I also read:
Silencer: by Andy McNab, the latest Nick Stone book. Nicks girlfriend is about to have her baby – but of course, trouble abounds. This was another excellent book in the Nick Stone series, and McNab cannot do wrong.
Unfortunately that's all I read in May 2014. It seems like a lot – but honestly I blew through the Coben ones in like a day each. I'm ready to start reading them again they were that good!
Book Series In Order » Blog »