Book links take you to Amazon. As an Amazon Associate I earn money from qualifying purchases.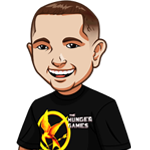 Has another month passed us already? Holy – time really flies. We're now in October 2014 and I'm loving it.
I've really been looking forward to this month because at the end of the month, I'm off to St Lucia for a week with the family. It's great to get away from televisions, video games, computers and work – then spend the week just relaxing on the beach and reading my Kindle.
When I travel these days I actually take TWO Kindles with me – because if my Kindle ever died I'd just freak out. I mean I have so much on there I don't know what I'd do. I'd have to – gasp – find a bookstore somewhere. This isn't 1998!
One funny thing I find too that I do is I plan out what book I'll read on the planes or at the airport in advance. Like there are some books that I find time just flies by when I read them – so I'll always go for them. I've been reading the Gray Man series by Mark Greaney and I find his are perfect for that so I'm looking forward to reading the third one. Saving it for the plane etc.
Anyhoo – onto what I read in September 2014:
Console Wars: Written by Blake J. Harris, it covers the Sega vs Nintendo battle in the 90s. I'll be honest – I hated this book, and it took up most of my month because I just couldn't bear to read it but wanted to finish it as well. It's an interesting enough book, but it's incredibly anti-Nintendo and just not that much fun at all. Highly recommended you AVOID.
Gone Girl: I had this recommended to me awhile ago when I first got into Harlan Coben. Took me awhile but boy was I glad I read this. I decided to start it with the movie out and oh man – just so, so good. I don't want to even talk about it much as I don't want to give anything away. It's funny as my friends who have saw the movie have said something similar. One said on a forum today that he loved it, and he doesn't want to say anything but "go see it". He liked it so much he ended up buying the book immediately after. I'll be reading the rest of the novels by Gillian Flynn this month.
Personal: Jack Reacher is back and yeah – this was a really, really good book. I thoroughly enjoyed it and it was one of the better Jack Reacher novels.
On Target:. I mentioned Mark Greaney above, and I read the second novel in the Court Gentry(The Gray Man) series of books. Damn was it good. I'm saving the third one for my visit to St Lucia. Can't wait. If you haven't started that series be sure to give it a try.
Alright that was it for me. Usually I read a lot more but Gone Girl was a fairly long book, and Console Wars…ugh.
What did you read in September 2014?
Book Series In Order » Blog »