Book links take you to Amazon. As an Amazon Associate I earn money from qualifying purchases.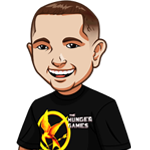 Written by Graeme
If you have been following this blog over the past few months you will know that I have been primarily reading the Michael Connelly books.
Nothing exciting this month as I continued to do so. I did get annoyed by having to figure out what book is coming up next, so on our Michael Connelly page I created the Bosch Universe books in order.
As all the books take place in different series but within the same universe.
Here's what I read last month and some quick thoughts on them:
The Ballad of Songbirds and Snakes by Suzanne Collins: Loved the original Hunger Games trilogy. Absolutely hated this one. Sorry Suzanne. This is one of those books where you read it and just think "What was the point?" There was none. A large portion of the story is that the Hunger Games themselves are boring. Guess what? If the people watching the Hunger Games are boring, then reading about the people watching them? Also boring!!! Such a disappointment.
The Drop by Michael Connelly: This was an excellent book in the Bosch series as it dealt with internal politics. It also brought back Irvin Irving who is always a fun recurring character. Bosch was at his best here.
The Black Box by Michael Connelly: While a great book and the usual "can't put down" sort of deal, I ended up leaving very disappointed. It's hard to write without spoilers but basically someone shows up out of nowhere that has a big factor in the end of the book. There is a mystery as to why this person had shown up yet they never explain it. They even directly have Bosch wonder why they appeared out of nowhere yet never mention why. Very frustrating and just felt lazy.
The Gods of Guilt by Michael Connelly: Another Mickey Haller book. It was great as per usual however one thing that bothers me is the way things change during books. The last book ended with Haller on a high and life going good. In this one, apparently he had a bad case in between books which has alienated his wife and daughter. Just felt weird that wasn't covered.
The Burning Room by Michael Connelly: Same deal as above. Bosch now has a new partner and his former partner David Chiu is barely mentioned. It's just weird when Connelly spends numerous books building up a character only to have them disappear from the series.
The Crossing by Michael Connelly: A combination Bosch/Haller book where Bosch has to work with Haller after retiring from the LAPD. It was interesting seeing Bosch battle with that and what he went through. Enjoyed this one.
The Wrong Side of Goodbye by Michael Connelly: This was an excellent one I thought. Bosch is dealing with two separate cases and I found this is one book where everyone is after him and you are really rooting for him and this may be one of my favourites. One thing I liked is that the two cases didn't tie together at all like some books would do. Fantastic.
The Late Show by Michael Connelly: My first introduction to Renee Ballard. I was warned about her a lot by Connelly fans. I see why. I still enjoyed the story but I am not a big fan of the character and how headstrong she is breaking the rules at all costs.
The Guest List by Lucy Foley: This book recently came out and I kept hearing about it. I have a tradition when I go to the cottage for a week where I read standalone thrillers every day so I knew this was the first one I'd read. I saw comparisons to Agatha Christie and I get that to a degree. However Lucy did a great job at creating various intriguing characters all full of mystery yet didnt leave you frustrated. I really enjoyed this one. Some of the mysteries and twists may be a bit too convenient etc.
And while not book I've started watching the TV show The Stranger based on the book by Harlan Coben. What's funny is I read that book yet don't remember it at all ha. Anyway decent TV show and recommended.
Book Series In Order » Blog »
One Response to "July 2020: Books I Read Last Month"