Book links take you to Amazon. As an Amazon Associate I earn money from qualifying purchases.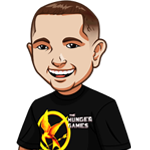 Written by Graeme
Hi everyone,
Another slightly quiet month for me when it comes to reading.
All the work taking place on BookNotification.com has honestly just kept me too busy.
We've added over 5,000 new authors there since January 1st. A lot of work but finally seeing the light at the end of the tunnel on it and then can focus on other things related to it. Also launching the new "My Library" feature this week on there.
I do love it from a personal standpoint though and being able to keep track of all the books coming out by my favourite authors. There are a few other services that do it but they don't do a good enough job I felt.
Alright here's what I've read in the past month – I primarily stuck with standalone thrillers due to time constraints and a trip that I was on.
Do You Remember by Freida McFadden: The story of this one is the protagonist is a female who wakes up every day, and can't remember what happened for the past decade. When she went to bed, she was engaged to one person and then when she wakes up, she's married to someone else. It's an overall solid story.
The Housemaid by Freida McFadden: This book was such a hit it spawned a sequel which is rare by authors in that genre. I've almost finished the sequel as well. Both were great. The plot can be a bit hammered home at times, but overall I am really enjoying Freida.
Noble Beginnings by L.T. Ryan: The first book in the Jack Noble series. This started out a bit dull and wooden I felt. Honestly I was ready to pass on this series altogether. It picked up in the final act though, and I'm going to read the second book for sure. This is basically for people who like Mitch Rapp, Gray Man, etc.
The Consultant by Bentley Little: I finished readhing this, then binge watched the TV show adaptation. The book? Tremendous. The TV show? I really enjoyed it, BUT it is the worst adaptation of all time. It's an adaptation in name only. Practically nothing from the book makes it in.
In saying that, Christoph Waltz is fantastic in his role, and really made the show.
And welp – that's really all I read. Like I said – the new site taking up a lot of my time. Hopefully that changes soon!
Book Series In Order » Blog »
2 Responses to "March 2023: Books I Read Last Month"