Book links take you to Amazon. As an Amazon Associate I earn money from qualifying purchases.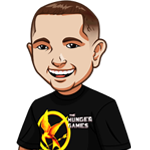 Written by Graeme
When it comes to reading new books, it was a really boring month for me in October as I read nothing new!
Well that's not quite true. I mentioned in last months edition of the blog that I had started the new book in the Mitch Rapp series – Enemy of the State. So that was an AMAZING book and I ended up taking it really slow to be honest. With only one Rapp story a year I really wanted to make it last. I think I read it over the course of almost 2 weeks when often I'd have it wrapped up in about 2 days!
After I was finished that I was still in the mood for some spy thrillers. However I've already read through the Rapp series 3 times and I didn't really want to go through it again – as good as it is.
I decided to revisit one of my favourite series – the Court "Gray Man" Gentry series of books.
I'd just read the 6th one in that a few months ago – Gunmetal Gray – and I felt it was the best one yet. So I decided to go back and read through them all again.
Man – what a great series it is. If you've never read it I really can't recommend it enough. If you're into the whole spy thriller genre these ones are just action packed and they also make you FEEL.
Anyway that was my reading in October – quite a quiet month. Looking forward to the new Jack Reacher though – I have a flight on the day it is released and I couldn't have planned that any better. Love getting some reading time on a flight!
Book Series In Order » Blog »
2 Responses to "November 2017: Books I Read Last Month"