Book links take you to Amazon. As an Amazon Associate I earn money from qualifying purchases.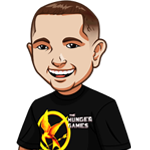 Written by Graeme
Honestly – not too much to report for October reading wise.
It was just one of those months where lots of other things came into play and really distracted me from reading.
I had a family vacation early in the month and my kids are old enough now that I'm always doing stuff with them during the day, then at night just shattered. Gone are the days when I would just sit and read all day while they went off with friends they made.
But hey they're old enough that soon they will be too busy to come on trips, and I'll get to go with my wife and we can get lots of reading done!
I also came down with a nasty illness that waylaid me this month for about 10 days, and honestly when I feel like that I just want to cuddle up on the couch and watch sitcoms. Reading just isn't something I do.
The only book I read and finished was Code Red by Kyle Mills, the final book he is writing in the Mitch Rapp series. This was a rare disappointment for me – it just didn't connect with me at all and I think that was one reason I didn't read much – I had that one on the go and couldn't get it finished.
I also read The Firm by John Grisham and plan on reading The Exchange next.
And yep that's it for me! That's okay I'll make up for this in November for sure with a big reading month.
Be sure to check out our new site Book Notification.
Book Series In Order » Blog »