Book links take you to Amazon. As an Amazon Associate I earn money from qualifying purchases.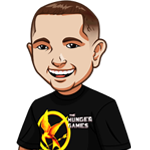 Written by Graeme
I'll be 100% honest – this was an extremely disappointing month for me when it came to reading.
I had a huge August with reading while at the cottage – reading one book a day – and I just couldn't match that. I wasn't burned out or anything I just did not read much at all.
It sucks as I was really hoping to read the new Mitch Rapp novel and the new Harlan Coben book but never got around to them.
I ended up just reading a bunch of stuff for work for most of the month – boring.
I had mentioned that I was reading the Orphan X Series in August and I read the short story in that one, then the 2nd book in the series The Nowhere Man.
It was….good, but not as good as Orphan X. I was a bit disappointed by it actually. I think the best way to put it is that often I get so involved and into a book I feel I am part of it while other books don't hook me so – and I just feel like an observer. Not sure if that makes sense or what but that's how I felt while reading that one.
The only other book I actually started and finished this month was The Long Walk by Stephen King.
I'd first heard of that one after googling similar books to The Hunger Games but just got around to it now. It was pretty darn good. I didn't really appreciate the ending too much but maybe when I've had time to think about it more I will.
At the tail end of the month I started the new Mitch Rapp book Enemy of the State. Only a few chapters into it though.
Hopefully October will be a better reading month for me.
Book Series In Order » Blog »
One Response to "October 2017: Books I Read last Month"