Book links take you to Amazon. As an Amazon Associate I earn money from qualifying purchases.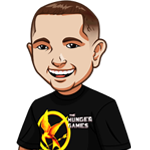 Well last time out as mentioned I decided to try a few new authors. I tried and enjoyed Lisa Unger, Jeff Abbott and then Gregg Hurwitz.
I decided to try out at least one new author every month, while also reading more by the authors that I've discovered – and then my regular dose of authors whose books I will blindly purchase and read every month.
Here's what I read in March:
The Wayward Pines Trilogy: A friend of mine had been telling me about this series after the TV show was first made so I picked them up but never got around to reading them till now. WOW WOW WOW. I can't even begin to describe how much I loved these. I started the first book, Pines, on a Friday night at 6pm and I had finished it by 10pm. I then read Wayward the very next day however with a flight coming up I saved the last one, The Last Town, until the flight and it was the best flight ever. I enjoyed all three of these books immensly and would highly, highly recommend them.
Back Blast: The latest Gray Man novel by Mark Greaney. After reading the disappointing latest Sam Capra book, I was worried about this one but holy crap did I ever not have to be. This was AMAZING. Just an incredible non stop action book and it might just be my favourite novel in the Court Genry series – although #1 is probably just slightly better. We were able to find out what the shoot to kill deal was and now begins a whole new chapter for the Gray Man.
Tell No Lies and They're Watching by Gregg Hurwitz: One of the new authors I tried recently and wanted to read more. Of the two, I would recommend Tell No Lies the most. It was a tremendous thriller that kept me guessing throughout the book and I was pleasantly surprised with the outcome. They're Watching was also good.
Far From True: The second novel in the Promise Falls Trilogy by Linwood Barclay. The usual amazing stuff from Linwood. Seriously one of the best authors I've ever read.
Rogue Lawyer: I stopped reading John Grisham a few years ago as I was tired of the way he interjected his politics into his books. I decided to give this one a try though and I was very surprised how much I liked it. His writing style is absolutely excellent and it reminded my why I loved Grisham growing up. I got hooked on it and went back and read my favourite Grisham novel of all time, The King of Torts and I also read one of the books I skipped, The Racketeer. That was a very good one too.
What have you guys read recently?
Book Series In Order » Blog »
One Response to "April 2016: Books I've Read Recently"