Book links take you to Amazon. As an Amazon Associate I earn money from qualifying purchases.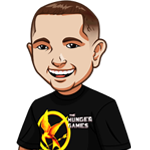 In June, I read Suspicion by Joseph Finder, which was his newest book.
After reading it, I got the "Joseph Finder" bug and I just had to go back and re-read most of his novels. This would make the THIRD freaking time I've read them now – what can I say? Finder is awesome.
If you've never read any books by Joseph Finder – oh man, what are you doing? Drop everything, head on over to our Joseph Finder page and pick one of the standalone novels. Actually I'd go with Paranoia, Company Man, Killer Instinct, Power Play or Suspicion myself. Those are his best. The others are great too but tend to be a bit long – it wasn't until High Crimes where he really nailed it style wise.
So I read:
Vanished & Buried Secrets: The two Nick Heller novels – Finders version of Jack Reacher. I remember being a bit wary of these when I first read them but on a re-read I really dug the character Nick Heller a LOT more. Both great stories.
Power Play: Man I love this novel. Everyone in a corporation at a getaway for the weekend in a retreat with no internet etc – then some bad dudes break in. The evolution of Jake Landry, told both in present form and retroactively, is just fantastic to read and he's a character you can get behind.
I also read:
Behind The Bell: Dustin Diamonds autobiography. It was okay – it was an easy read at any rate. I think with a book like this, you want a lot of dirt and gossip. Instead it was a combination of some petty jabs at his fellow cast mates, as well as Dustin doing everything he can to make you think he was a playa back in the day. Still enjoyable – but one of those books I'd recommend having sitting on the shelf in the bathroom.
Also my wife LOVES Under the Dome, so I decided to watch it with her. But first I had to read the book.
Under The Dome: Typical Stephen King. Amazing, enthralling and long as all hell – with a poor ending. But then I'm used to it so I wasn't THAT disappointed by the ending – it's more just "oh that's what you're going with? Okay then". Still a really, really good book that I thoroughly enjoyed though and would recommend. The TV show is fantastic too and very different which is good. Hopefully the ending is too!
Different Seasons: I'd never read this – so started it. Shawshank Redemption…..eh. One of those stories where the movie is just so goddamned better and to a ridiculous degree that while it is great – it's nothing compared to the movie. Apt Pupil was fantastic though – need to go back and watch that movie again. The ending of the book was so much darker and better.
That's all I read in July. I read a TON time wise – but when you're reading Stephen King, you don't go through too many books.
What did you read in July?
Book Series In Order » Blog »