Book links take you to Amazon. As an Amazon Associate I earn money from qualifying purchases.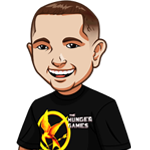 Written by Graeme
Hi everyone,
It was another disappointing month for me reading wise due to all of the focus on the new site, Book Notification. We were taking that site out of beta in June so there was a big time crunch.
I also have been very busy. Usually I have a chill June through August but this past month was crazy with various trips, friends and family visiting etc and July and August will be the same.
Basically just sneaking in reading when I can at the moment.
Here's what little I read last month:
The Illustrated Man by Ray Bradbury: A short story collection by him. Not as good as The Martian Chronicles but still enjoyable. Quite a few stories that leave you wanting more. Oh so much more.
What Have We Done by Alex Finlay: I listened to this one. Standard thriller and trope. What I enjoy about Finlay though is he creates enjoyable and different characters.
I thought it was good for the most part but it had one of those epilogues that really brought the book down. End it before the epilogue, you'd be fine. It just got extremely silly.
Wool by Hugh Howey: Read this and then started the send book, Shift. Absolutely loved it. Looking forward to checking out the TV show.
Welp. That's my June.
Book Series In Order » Blog »