Book links take you to Amazon. As an Amazon Associate I earn money from qualifying purchases.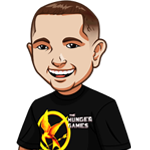 Written by Graeme
This has been a weird month in that I felt I've read a bunch, but looking on my Kindle I really didn't read as much as I thought.
I read one that has been on my list forever – Fahrenheit 451 by Ray Bradbury. Never had got around to reading that even though Martian Chronicles is one of my favourite books ever. For the most part I enjoyed it. I've seen it listed on many "best Ray Bradbury books" as #1 but I wouldn't say that. Martian Chronicles is still #1 for me.
I'd recently read While You Were Sleeping by Kathryn Croft and decided to read another one of hers. The Stranger Within was available via Kindle Unlimited and so I went with that.
WOW.
I don't want to say too much about it but I've been reading a lot of these psychological thrillers lately and this is one of my favourite ones. It's about a woman who has recently became married to a man with two kids. The kids don't accept her. At all. And it jumps back and forth from the past to the present. In the present she has just been charged with murder. In the past – it's the build up to it as her life completely unravels.
Boy did I love that book and I highly recommend it.
The other one I read was Remember Me by Lynda Renham. We don't have a page up on her yet to link to. This was another good one however. It's interesting and a different style as it takes place from one perspective then the other and sort of retreads old material but from a different perspective and I liked it.
For the remainder of the month I wrapped up the Will Robie series reading Bullseye, The Target, The Guilty and End Game.
Book Series In Order » Blog »