Book links take you to Amazon. As an Amazon Associate I earn money from qualifying purchases.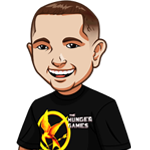 Written by Graeme
Hi everyone,
May was a fun month when it came to reading.
I didn't read as much as I'd like to this month, but the books I did read I ended up reading most of them in one sitting.
Here's what I read:
The Hunter / The Killer by Tom Wood: This is the first novel in this "spy thriller" series. I had this one on my list to read for many, many years. Back when I first read the Mitch Rapp series and was looking for similar books.
I randomly got motivated to read it thanks to a reader mentioning it and absolutely loved it. I'm just starting the second book in this series next.
The Family Holiday by Shalini Boland: I've read quite a few standalone thrillers by Shalini. I find them hit or miss. This one was a big hit. I really enjoyed it. It's about two families who swap houses for their vacation basically and one of the families walks into a lot of trouble.
Just don't read the description of the book. Holy moley does it give a massive spoiler.
Unthinkable by Brad Parks: An excellent book by Brad. Nate Lovejoy is a stay at home husband who gets kidnapped by this powerful and secret organization. They tell him that they can see the future and that a billion people will die unless he kills someone – his wife. That description doesn't do it justice. This was a superb book.
Interference by Brad Parks: I realized I hadn't read this one by Brad. I've read all his standalone novels except for the above two. So I decided to read this one. Another excellent one. A Quantum physicist starts experiencing dangerous seizures, then he goes missing and it is revealed that he has been messing with the quantum universe. I just flew through this one. Great book.
Afterlife by Marcus Sakey: Big fan of Marcus and I really enjoyed the majority of this one. I felt the final act was a bit rough but everything leading up to it was excellent. It's about FBI agent Will Brody who gets killed but then….wakes up and is completely fine. But everything isn't as it seems as 3 people, looking hopped up on something, attack him. Will realizes he has entered the afterlife – a place where people who murder others just get stronger. And they want to kill him.
Nine Lives by Peter Swanson: I listened to this one. It was okay – probably the weakest of his standalone thrillers actually. A list of 9 people is sent to those 9 people, and then they all start getting killed off one by one. It was okay but I don't think it was made clear that one of the people was doing the murdering, and it was really lacking the "whodunnit" aspect where you sit around trying to guess.
Currently listening to Ishmael by Daniel Quinn. Don't have him listed yet but will soon.
Book Series In Order » Blog »