Book links take you to Amazon. As an Amazon Associate I earn money from qualifying purchases.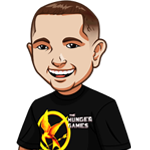 Written by Graeme
I mentioned last month that I had started reading the whole standalone "pychological thriller" genre that's been popping up over the last couple of years. For the most part I stuck with that this month, although I started on a new book series as well.
So first up after reading I See You by Clare MacKintosh I ended up reading her other novel, I Let You Go.
That was a very good one. It begins with a car accident and a mothers life is shattered as her son gets hit and killed by a car. The story follows Jenna as she trys to escape the memory of the accident. She leaves the country, moving to Wales and staying in a cottage.
This was a great book full of twists and great characters. I thoroughly enjoyed it and I'm already counting down the days until the next book by Clare, Let Me Lie, which is released on March 13th, 2018. I can't wait!
While doing my research for authors to add, I noticed The Woman in the Window by A.J. Finn was rocking the best seller lists and I'd had some recommendations for that so I decided to read that one next.
Eh. I enjoyed it for sure – but I think it was quite weak compared to some of the other thrillers I've read. I liked the whole aspect of her watching people from her window but really that was only a small thing that wasn't too focused on.
After that I decided to start the Will Robie series by David Baldacci.
Baldacci used to be one of my favourite authors, but I went off his writing when he focused on series as opposed to standalones. I wasn't a fan of King/Maxell or the Camel Club, but so many people know I love Mitch Rapp and Jack Reacher etc so I said oh well – let's give the Robie series a try after I got a lot of recommendations for it.
I'm so conflicted. The writing almost seems sophomoric at times and it's laid out very simple – but I still thoroughly enjoyed it. It took awhile to get me hooked – I was halfway through the book before I started to become connected to the characters. However by the end I was loving it and honestly – I was in the bath when I finished the first book, and I yelled for my wife to check the books in order so I could read the second one immediately.
So that's good anyway – I am just wrapping that one up right now. Not sure if I'll read the other 3.5 books in the series just yet or if I'll move onto something else. There's a few other books I want to read so we'll just have to see.
Anyway that's my month for book reading!
Book Series In Order » Blog »