Book links take you to Amazon. As an Amazon Associate I earn money from qualifying purchases.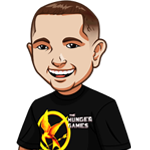 Written by Graeme
This month I finally got off my "psychological thriller" kick and was able to get back to reading a few books in some of my favourite series.
Of course at the start of the month, I was still reading the psychological thrillers. I read The Friend by Teresa Driscoll. This was a very good one about a woman who thinks she can trust a new friend to watch her child, but then finds out that's not the case.
It jumps timelines and from various character perspectives and it's all done seamlessly – it was a thoroughly enjoyable book.
The next one I read was the highly respected and much talked about book The Flight Attendant by Chris Bohjalian. I'd never read anything from him before but heard a lot about it and kept seeing it on the bestseller lists.
I enjoyed most of this one other than the final act. The ending was quite weak and the twist at the end was very bad. It felt like a twist for the sake of a twist and nowhere near as good as masters such as Harlan Coben. The eplilogue was laughably bad. The rest of the book was very good however.
The last standalone novel I read was 99 Red Balloons by Elisabeth Carpenter. This one I'd kept seeing on my recommendations lists and finally decided to take the plunge. I thoroughly enjoyed it and will be reading more of her novels in the future.
I decided to take a break from thrillers and go with the latest book in the John Wells series by Alex Berenson, which is The Deceivers. This one Berenson decided to tackle real world politics head on with an alleged attack on US Soil by ISIS, except it was orchestrated by the Russians.
This was a great book and Berenson continues to impress me. His books are always nailbiting and this book was no different.
This got me back on the "spy thriller" train and I wrapped the month up with the latest Gray Man book by Mark Greaney which was the usual great stuff.
So another solid month with mostly really enjoyable reads.
What did you read last month?
Book Series In Order » Blog »