Book links take you to Amazon. As an Amazon Associate I earn money from qualifying purchases.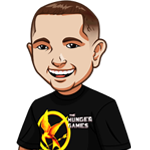 Written by Graeme
Welcome to the May 2019 edition of books I read last month.
I didn't spend as much time reading as I'd like to as my son wanted to go through all of the Marvel movies in anticipation of the final Avengers movie. So while I'm not the biggest comic book movie fan, I spent a large portion of the month doing that.
I also can't seem to remember what I read at the beginning of the month! Not sure why that is. I am looking in my Kindle and don't recognize the ones that I read. I know I read 1-2 books to kickstart the month too ha.
Anyway for some reason halfway through the month I was craving detective books. Not sure why but I decided to read some by revisiting a series that I had tried before.
That is the Detective Roy Grace series by Peter James.
My mother had actually recommended this series to me about 10 years ago. I read the first book and that was it. Great book ruined by the fact that a medium basially solved the case. No thanks ha.
I decided to give it another go and while the medium was there again they didn't solve the case this time. However it still wasn't that enjoyable a book. The final act I didn't like although everything leading up to that was intriguing.
One reason is I feel the writing is rather rough. I know a lot of people like the series so maybe the author polishes it up later on. But the two early books turned me off and I won't go back to it for awhile.
I then went with Trunk Music, the fifth book in the Harry Bosch series of books by Michael Connelly.
I'd tried this series about a decade ago as well – maybe longer – and couldn't get into it. However I was into Jack Reacher, Mitch Rapp etc at the time and that's quite a character jump as you can imagine.
With so many people who read my newsletter and website telling me what fans they are of the series – plus seeing it be one of the most popular series on the site for awhile – I've been reading it again.
It's interesting as I read one Bosch book a month pretty much. I enjoy them but not enough to hook me or binge.
Until Trunk Music.
Maybe it was the setting – it took place largely in Las Vegas which I visit often – or maybe it was just the characters all coming together and all the growth but I found I really cared about this book and how it all worked out more than others.
I immediately jumped into the next one and I have a feeling I will be going through this series for the month of May.
Book Series In Order » Blog »