Book links take you to Amazon. As an Amazon Associate I earn money from qualifying purchases.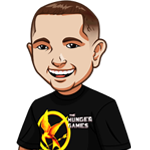 What an interesting month it was for me last month when it came to reading.
I'd written back in August 2016 that I was working my way through Gregg Hurwitz novels. I continued to do that in August- although I must admit I was going at a really slow pace.
It was really weird because I was enjoying the books and all – I just wasn't rushing through them. I didn't have that urgency. I'm sure many of you know what I mean – some books have you picking them up constantly – like during a commecial break on TV etc.
I had that when the new Spider Shepherd book came out. I love that series – one of my favourite ever.
So yeah August I was struggling a bit. Then I got in the mood for John Grisham – probably because his new book, The Whistler comes out soon. So I re-read The Firm which was still as great as ever. Probably my 10th or 11th reread. Then I read Gray Mountain which may just be the worst book I've ever read. Holy crap was it bad.
So for September I made Harlan Coben our author of the month due to his new book in the Myron Bolitar series coming out.
That got me thinking – I LOVE Coben but I've never read the Bolitar series at all – just the standalone novels. So I thought screw it I'll read the first one – Deal Breaker.
And I was absolutely hooked.
The Myron Bolitar series is absolutely incredible and in the month of September I ended up reading a whole bunch of them. I mean holy crap they all blend together as I finished one and instantly read the next one. I read Deal Breaker, Drop Shot, Fade Away, Back Spin and One False Move. I just absolutely flew through them and even though it was a busy month I was able to sneak in lots of time.
So if you haven't read it, be sure to read the Myron Bolitar Series of Books. Amazing series and Win may be my favourite side character in any book ever! And that includes Jimmy Sharpe in the Spider Shepherd series.
Book Series In Order » Blog »