Book links take you to Amazon. As an Amazon Associate I earn money from qualifying purchases.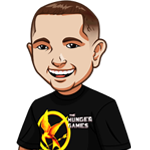 As I'm sure is no surprise to any of you – I'm a big reader. I've always been a big reader since I was a kid. It's great because I've pushed my reading love onto my own kids, and now they can't get enough. Long car ride? No need for iPads or DVD players or whatever – they bring along books.
Of course as they get older, it can get a bit trickier in regard to what they read. I'd say from 6 years old up, they're actually caring more about the actual story within the book rather than just the pictures.

My son is 11, my daughter is 7 and we've went through a wide variety of books and series to find out the ones they like the most. Below are the ones that have really touched base with the kids. There's others but I could be doing honorable mentions for a week straight – let's just go with the top 10 books for 6-12 year olds:
#10: Harry Potter
This is a hit and miss series of books for kids I've found. My son just can't stand them at all, while my daughter can't get enough. Of course you know all about the Harry Potter Series of Books – it's no great secret. It's worth trying it out for the kids. You may want to introduce them to the first movie and then if they like that, they can picture the characters a lot better.
#9: Enid Blyton
This is a personal push by me, I must admit. Growing up as a kid in the UK, like everyone else I read Enid Blyton. I could not get enough of the Famous Five, the Secret Seven, etc etc. Hell I just went back and read them all again recently and I'm 33 years old, and they still kept me up at night.
I've found it hard going to get the kids into these – but it's worth a try because it's great to relieve your childhood through your children. Even if you never read Enid Blyton, give Five on a Treasure Island a try – the first in the Famous Five Series of Books.
#8: Captain Underpants
If my son had his way, this would probably be top 3. Ugh. It's not that I don't enjoy the books – and they ease the kids into THAT type of humour(oh look – the planet is called Uranus!) – but they feature comic strips in them with horrible spelling errors. That's the point of the books of course – it's two kids writing the comic strips – but when it's younger and impressionable kids, I think it's a mistake having all the spelling errors. But be sure to give the Captain Underpants Series a try – kids do love that toilet humour.
#7: Goosebumps
The Goosebumps series of books – and boy is there a lot of them – is written by R.L. Stine who has written a pretty great selection of books. These are a great series of books that have stood the test of time, and are good for introducing your kids into the horror genre without it actually being that scary.
#6: Mason Dixon
The Mason Dixon series of books are written by Claudia Mills and Guy Francis. My kids really like them because they're – quote from my daughter – "perfect bedtime books". They're the type of books they enjoy to read as they feel they fall asleep easier while reading them. They still thoroughly enjoy the books, but they just feel there's something about the books that makes it easier for them to drift off. And who am I to deny a child wanting to sleep?
#5: Percy Jackson
Also of note – the 39 Clues books by Rick Riordan as well. Even though I couldn't get my son into Harry Potter he ate these books up and really, really enjoyed them. Probably best for around Grade 4 or 5 I'd say.
#4: Where's Waldo?
The Where's Waldo series of books need no introduction, and they're usually a hit for kids. Starting easy and then getting harder and harder. It's great watching a kids face when, after about 10 minutes of scrutinizing everything on the page they finally see Waldo or the Wizard. These books always keep them entertained.
#3: Calvin & Hobbes
It's great to introduce kids to a series of comic strips, and there's none better than Calvin & Hobbes. My kids love the likes of Garfield etc but there's just something about the Calvin and Hobbes series that every kid seems to relate to, as well as the topics that they cover. I still remember my kids reaction to when they go on a family trip, Calvin forgot Hobbes and they return home to find the house broken into and can't find Hobbes. My son hugged his blanky extra hard that night.
#2: Diary of a Wimpy Kid
The Diary of a Wimpy Kid series is published by Jeff Kinney. A tremendous series that'd be #1 except I feel it dropped off just a bit lately interest wise. My kids have read most of the books multiple times, but since the first read of the last few books they haven't read them since. Maybe the movie changed things as it was less about their imagination after that? I'm not sure exactly – but these are still a fantastic series, and highly recommended.
#1: Big Nate
The Big Nate series of books is my current favourite for reading to the kids, and they love them too. The stories are very similar to the Wimpy Kid series of books, but I just feel the stories are always better, and more fresh. The secondary characters are great too, and Pierce has done a tremendous job of making each character their own to the point they are instantly recognizable.
The artwork is excellent too, which is a big plus. Plus with a daily comic strip, this series has everything.
So – if you're a parent, what do YOUR 6-12 year olds currently like book wise?
Book Series In Order » Top Lists »
12 Responses to "Top 10 Books for 6-12 Year Olds"