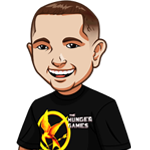 One of the best things about reading a book is when it gets picked up by the big screen. Then everything you visualized in the book is brought to life.
Of course it's always hit or miss. The Hunger Games movie and Divergent I thought were both fantastic – but ugh, Jack Reacher? Paranoia? No thanks.
I'm going to list here, in order of release date – books that I have read that have movies coming out later this year. All release dates are the North American release dates.
The Fault In Our Stars:
Written by author John Green back in 2012, The Fault In Our Stars hits America on June 6th. The story is a love story about Hazel, who has terminal cancer and ends up meeting someone at a cancer support group. This was an excellent read, very amusing in parts – and all of course leading to the inevitable end. If the movie captures the refreshing perspective that the book brought, it should be great.
The Fault In Our Stars Release Date: June 6th, 2014.
Book: Read more about it or buy for $7.40.
The Giver:
You've probably heard of this book series by Lois Lowry. A dystopian novel with a utopian society – everything is perfect. Then of course – it's not. Jeff Bridges is starring in this one – and so is Taylor Swift so that'll be interesting. For the ladies – Alexander Skarsgard is in it so yeah – enjoy that.
The Giver Release Date: August 15th, 2014.
Book: Read a more detailed description or buy The Giver for just $4.99.
Dark Places:
Written by Gillian Flynn, this is the story of Libby Day. When Libby was just 7 years old, most of her family was murdered by her brother. The book then takes place 25 years later – a group called the Kill Club, who attempt to solve crimes, approach Libby stating that her brother was wrongfully accussed. This book sucks you in fast and keeps you going.
Dark Places Release Date: September 1st, 2014.
Book: You can get this great thriller for just $4.99 at Amazon.
This Is Where I Leave You:
The author of this book is Jonathan Tropper, and man is it entertaining. I was very glad to hear Jason Bateman got the movie role – he should be perfect for that. The main character is Judd Foxman, and things aren't going his way. His dad died, his wife is sleeping with his boss – and Judd has to sit Shiva with the whole family. Adding Tina Fey to the mix will hopefully make this movie a blast.
This Is Where I Leave You Release Date: September 12th, 2014.
Book: You can read more about it here.
The Maze Runner:
I am so so excited for this. I loved the book by James Dashner. I'm going to be abrupt here – read this book if you haven't. It's tremendous. Be sure to pick up the whole Maze Runner Series – recommended in publication order.
The Maze Runner Release Date: Not soon enough. September 19th, 2014.
Book: The Maze Runner is just $5.69. Best. Purchase. Ever.
Gone Girl:
Written by Gillian Flynn – who is having quite the year – Nick and Amy are the characters in this book, getting ready to celebrate their 5th wedding anniversary. However Amy suddenly just disappears. This is a great mystery that had me hooked from the beginning, and I can't wait to see it play out on the big screen.
Gone Girl Release Date: October 3rd, 2014.
Book: You can read more about the plot of Gone Girl Here or buy the book for the best price here.
Wild:
Cheryl Strayed penned this one, about how she took a 1100 mile hike by herself. It's quite the memoir, and a real "coming of age" type book. Reese Witherspoon plays Strayed, and I think she'll be perfect for it.
Wild Release Date: December 5th, 2014.
Book: Part of Oprah's Book Club, you can get it for just $6.99.
Unbroken:
A true story written by Laura Hillenbrand, it features olympic athlete Louis Zamperini. He was in World War 2 and his place crashed. He survived – but only with a raft, in the middle of the pacific ocean. This was an amazing book and it'll be interesting to see if the movie can capture the pure isolated feel of it all.
Unbroken Release Date: December 25th, 2014.
Book: You can currently pick up Unbroken for $6.99 at Amazon.
Serena:
Loved this thriller written by Ron Rash. George and Serena Pemberton are married, and are starting a massive timber empire. Man – there's just so much to this story that I don't want to give away. But let's just say the book is great, and Jennifer Lawrence and Bradley Cooper will probably do a phenomenal job of bringing it to the big screne.
Serena Release Date: In Germany it's September 4th – I'd expect it around October in the States.
Book: Get Serena for $7.99.
Divergent:
Okay okay – so Divergent actually came out awhile ago. But it's worth a mention because man – the first book in that trilogy is AMAZING, and I thought the movie did an EXCELLENT job of capturing the book.
If you haven't yet, be sure to buy the books then go see the movie!
—-
Book Series In Order » Top Lists » Top 10 Books in 2014 to Read Before They Hit Movie Theatres