Book links take you to Amazon. As an Amazon Associate I earn money from qualifying purchases.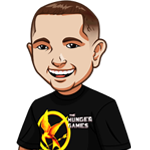 As you can no doubt imagine – the success of The Hunger Games books, and then the movies, have spawned a wide variety of books in a similar format. Some are very similar to the Hunger Games in terms of the plot, while others are very loosely connected by the tags "young adult" and "dystopian society".
Upon reading the series, I immediately did various Google searches for "Books like The Hunger Games" and "If you liked the Hunger Games, You'll Like…" then I went through and read them all. Yes, them all. There was tons! But I did it. Whew.
What I've did here is filter the list. So instead of going back 10 years, I've restricted the list to book series or books that came out just after the initial Hunger Games – so just in the last few years. Then organized them by how much I enjoy them.
#10: The Infernal Devices Trilogy
This was spawned from Cassandra Claires Mortal Instrument series. I won't say any more in case you haven't read that series – but I actually preferred this to the Mortal Instruments. It just felt weird putting what was essentially a sequel trilogy before the actual main trilogy.
#9: The Mortal Instruments Series
There are four books in this series, and it starts with City of Bones. Clary Fear witnesses a murder – oh but the murderers are only visible to her. This is a group known as the Shadowhunters, whose aim is to erase the planet from all demons. Not my favourite series but it was still pretty good and is being made into a movie series.
#8: The Razorland Trilogy
The first book in this series is Enclave. If you're 25, you're elderly. This is due to the way New York City has turned out, with disease and so many other things occurring. There are only three roles in the society – a builder, a breeder, and a hunter. Girl15, who will be named Deuce later, trains to become a huntress and she is basically a killing machine. It was a nice change of pace from the other books with no forced love triangle.
#7: The Delirium Trilogy
In a dystopian society, everyone has a piece of their brain removed. This piece makes it impossible for them to fall in love. They all have to have it when they turn 18. The start of the books, Lena, falls in love just 3 months before her 18th birthday.
#6: The Legend Trilogy
This series of books is written by Marie Lu, and is Legend, Prodigy and Champion. Los Angeles(or what was formerly known as Los Angeles) is now flooded. The main character attempts to find the most wanted criminal in the world in revenge for her brother's death. Things get a lot deeper than that though, and before long you will find yourself wrapped up in the story.
#5: The Uglies Trilogy
This was a very fun series. It's post-apocalyptic, and when you turn 16 you are changed to become beautiful, and move to New Pretty Town. However there are people, known as the "Uglies", who never participated and ran away. Like many of the great books it features the protagonist having an initial big decision – this one being to go "ugly" or to turn in the uglies.
#4: The Matched Trilogy
I was surprised I got so hooked on this series. It's a dystopian society where your whole life is planned out in front of you. The main star Cassia is told she must be with Xander – who is her best friend. So that's all good. However when she was told, there was another person briefly shown – Ky Markham. That was apparently a mistake, but she ends up falling in love with him in the first hint of rebellion. I really enjoyed this series and you can get hooked via the first one
#3: The Maze Runner Trilogy
This series is awesome. The way it starts off immediately gets you hooked. Thomas, a 16 year old, awakes to a world that he has no idea of – the only thing he knows is his name. Then he discovers that everyone around him is in the same position. Man I am getting goosebumps just writing this. He's in a place known as "The Glade" – which has walls all around it. Oh and once a month a new boy appears. Then dun dun dun….a girl appears. Seriously, get this.
#2: The Unwind Series
I read all of these in pretty much a day. Parents have the option, when their kids are 13-18, of unwinding their children, where all of their organs are put into different donors. Crazy, right? Well then we have 3 people who are set to have that done to them but escape it. There are three main protagonists here and I think that's what I found the most refreshing.
#:1 The Divergent Trilogy
You may have heard some negativity towards this series – it's understandable. Honestly the 3rd book wasn't that great. But it's made up for by a solid second book, and a debut novel that is probably one of my favourite of all time. I remember I started reading it while on vacation in Mexico, and I ended up spending all day just glued to it. Forget scenery and all that – the Kindle was the only thing I saw that day. Seriously, if you haven't read this series get it.
---
Hope you enjoyed this top list. We have articles on The Mortal Instruments, The Maze Runner Series as well as the Divergent Trilogy and will add more in the future.
Any book series not mentioned feel free to post below in the comments. I'm always looking for new books to read as is everyone visiting this site!
Book Series In Order » Top Lists »
5 Responses to "10 Series To Read After The Hunger Games"