Book links take you to Amazon. As an Amazon Associate I earn money from qualifying purchases.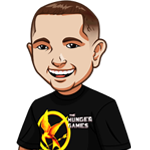 Written by Graeme
Well I'm not sure about everyone else, but right now I am seriously appreciating the fact that I am a reader because it gives me a great opportunity to escape from the real world.
Here's what I read in March:

Dead Men's Trousers by Irvine Welsh: The 4th and final book in the Trainspotting Saga. An absolutely incredible book. I absolutely love Irvine Welsh and this was a very fitting end to the series. I have no idea how he does it but each book in this series legitimately feels better then the last. If this truly is the end I'll be sad but it's hard to think of how he can follow it up.
I actually ended up going back and reading the entire Trainspotting saga prior to this one. Such a great series.
The Dilemma by BA Paris: I'm generally a big fan of BA Paris however this one I think didn't hit the mark. It's a standalone thriller full of everyone keeping secrets and so on. I don't think you should be sitting there feeling frustrated by a main characters decisions but that's what I felt. I don't want to say too much in regard to spoilers – but I can guess the reasons he didn't make the phone call however I don't feel that it was communicated well throughout the book. It dragged on a bit too. Overall it was an okay book but not one I'd rush out to recommend.
The Wild One by Nick Petrie: I don't think I have recommended an author more than Nick Petrie and his "Peter Ash" series. The first four books were absolutely tremendous. This one? I felt it missed the mark. I'm not sure what it was. Maybe because it took place in Iceland and I couldn't relate to it as well? I know I wasn't as invested in the story. I also felt the ending of the book was extremely poor. I was basically sitting there skimming the pages to get the jist of it and hitting "next". Oh well one rough outing (at least in my opinion). The other 4 have still been fantastic.
The Broker by John Grisham: I read a bunch of Grisham as mentioned above however this was one I hadn't re-read ever. Boy I enjoyed it. Just something about a guy forced to go to a foreign land and learn the language and customs etc. One of those books where it's neat to just take a minute and picture yourself going through all of that etc.
Leathered by Chris McQueer: A friend introduced me to Chris. He's Scottish, and writes in that Scottish slang style that Irvine Welsh writes in. I'm Scottish so I love that stuff. This is a short story about Frank, a prison guard who tweets that he could kick the crap out of Kim Jong-Un and it takes off and he actually fights him. Surreal, ludicrous and both hilarious and entertaining. Amazing writer.
One Minute Out by Mark Greaney: A drastic change from third person to first person that really threw me off. I read the first 12% of the book and struggled to do so then put it down. I'll get back to it but that drastic change really threw me off.
What are you reading while being stuck at home or to distract yourself?
Book Series In Order » Blog »
One Response to "April 2020: Books I Read Last Month"