Book links take you to Amazon. As an Amazon Associate I earn money from qualifying purchases.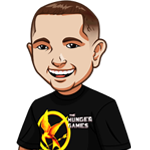 Written by Graeme
The work continues on our new project, Book Notification. It's forcing 60+ hour work weeks out of me, and unfortunately that has affected my reading time.
Don't worry though I can see a light at the end of the tunnel and I think by June, when we take the "Beta" stamp off the site, things should be a bit more chill.
Here's what I read this month:
The 7 1/2 Deaths of Evelyn Hardcastle by Stuart Turton: The concept of this is there is a party and Evelyn Hardcastle dies. The protagonist is a character who has to solve the murder. Each day repeats itself, but he wakes up inside the body of a different person each day.
Pretty cool concept. Book was generally good. Just a tad too wordy and fancy for my tastes. It was also fairly complicated to keep track of. I still enjoyed it but not one I'd rush out to recommend.
Thicker Than Water by J.D. Kirk: The second book in the DCI Jack Logan series. I listened to this and highly recommend doing it that way. The books are great, but the narrator, Angus King, takes it to a whole other level.
These are Scottish detective novels and are just superb. I've moved onto the third book in it now and might keep going even though I have a few other audiobooks I purchased that I want to listen to.
A Good Girl's Guide to Murder by Holly Jackson: Typical young adult fluff. It is what it is. But the fact that in a book targeted towards young adults and new readers, you actually kill off a dog? When it isn't even related to the plot? Disgusting.
I respect what authors do and I never post negative reviews online about them because I know how hard criticism can be. But this resulted in me posting my first ever negative review online about a book. So irresponsible of her.
Book Series In Order » Blog »