Book links take you to Amazon. As an Amazon Associate I earn money from qualifying purchases.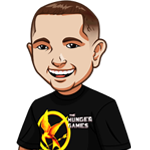 Oops – I missed last month for the books I've been reading.
However October can be summed up in exactly two words: Myron Bolitar.
I read half of the series approximately in September, and I read the rest of it in November.
It's interesting because 2011 was his last book until Harlan Coben released Home in 2016. I was actually ready to jump right into that one until I got a bunch of e-mails from people.
They were all confused because they READ Home and a character who was dead in previous Coben novels miraculously was alive again with no explanation in Home.
We reached out to Harlan Coben who said that to get the answer, we need to read the Mickey Bolitar series.
The Mickey Bolitar series is a follow-up. Myron is Mickeys uncle and the Mickey series is currently a trilogy. It's marketed as "young adult".
Anyway I decided to skip it initially, and move onto the new Jack Reacher novel.
And ugh….
I didn't like it.
I think this will make 3 novels in the Reacher series I don't like. It wasn't that this one was bad either. I mean it had some good Reacher moments, and some good reactionary moments. Like the group that get owned by Reacher and Neagley then mention to their superior how Reacher brought a whole army with him. That was good.
I think that overall the story of this one was just boring as all hell. It was a really bad story. There was no mystery as to who the bad guy was – the mystery was what he was looking for and really anyone could guess what it was.
I also just couldn't connecting to the story at all. With most Reacher novels I find I can't bloody put it down. I'll be reading it whenever – while brushing my teeth, while chopping up vegetables etc.
Instead this one took me a whopping THREE WEEKS to actually read. I struggled through it and it got to the point where I forced myself to finish it.
Disappointing.
So that was November. But then I decided to read the Mickey Bolitar series. And this was the complete opposite of that actually.
I started it 3 days ago and I read the entire trilogy in exactly 3 freaking days reading one book per day.
That series I WAS reading it while brushing my teeth etc.
It wasn't exactly great. Some of the language between teenagers was cringeworthy. The first book in the trilogy had an ending that well – it felt like "Hey it's young adult so I can throw any crap in there". For those who have read it – the club, and Spoon. Need I say more?
But holy crap what a series. I just couldn't stop reading it. Just incredible stuff and I'm pumped to read the new Bolitar now.
Although I love that series so much I'm going to save it a little bit. Going to read the new Mitch Rapp book Order to Kill first. Started reading it end of the month and it's good so far. Kyle Mills really owns that character.
What have you guys been reading?
Book Series In Order » Blog »