Book links take you to Amazon. As an Amazon Associate I earn money from qualifying purchases.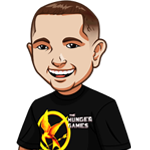 Written by Graeme
Well last month I said I was going to read the latest Mitch Rapp novel to kickstart December 2016, and that's what I did.
This was the second book written by Kyle Mills after he took over the series due to Vince Flynns passing.
I thoroughly enjoyed the first one by Mills – The Survivor – so I was curious to see how the next one, Order To Kill would be.
In two words – it rocks!
Kyle Mills really "gets" Mitch Rapp. He writes in his own style but he has nailed the character perfectly. I'd still prefer Vince Flynn but in terms of the character, he has really got it down perfectly. If it wasn't for the differences in writing I'd honestly forget it wasn't Flynn writing them.
The big differences is that Mills is all about more action scenes, and he also creates more complex building and then goes into great detail about them.
The action scenes one is interesting. if I think back to the books written by Vince they may actually seem a bit dull or slow compared to these. However in my opinion that's not a bad thing – they made the action scenes seem that much more intense when they'd happen. Vince would build to them while Kyle seems to jump into them quite quickly. Neither style is "bad" and I like both.
The descriptions of the buildings throws me a bit. In the recent one the finale takes place in this complex building with pipes etc and it was just really hard to picture. But that's the only complaint I have – otherwise they're great and if you haven't read them yet but are a Mitch Rapp fan – do yourself a favour and do so.
After reading that, I was in the mood to start a new series featuring a "lone badass". My first thought was the Gabriel Allon series written by Daniel Silva. I know a lot of people love that. I used to be a huge fan of Silva back when he wrote the Michael Osbourne series but had never gravitated to the Allon series.
However I was looking through my books and realized that I had the first book in the John Wells series by Alex Berenson, sitting on my Kindle FOREVER. I started reading reviews and the first review I saw mentioned how it kept them up all night – they couldn't put it down. I thought "Perfect" and started it.
Holy moley. That person was correct – I DID stay up pretty much all night reading it. It was the type of book that I'd take everywhere. To the bathroom? Kindle comes with me for a quick read. 5 minutes to wait for my dinner to be ready? Kindle time!
As soon as I was done it I jumped into the next one and the next one and that's ALL I have read in the month of December. I'm going to continue to read it in January and with the newest one coming out at the end of the month that's just bloody perfect.
So that's my month in reading and if you're a fan of that "lone badass" type of book character then be sure to check out the John Wells Series of Books.
Book Series In Order » Blog »