Book links take you to Amazon. As an Amazon Associate I earn money from qualifying purchases.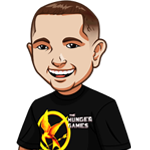 I didn't end up doing an article at the end of May for books that I read because in May, I really didn't do that much reading unfortunately.
I was busy with a lot of work stuff and house stuff and then in my downtime I was watching the TV show 24. Bloody hell that's a great show – Season 5 is probably my favourite and that's why I didn't get to much reading in May. Any spare time I had I was rocking that.
However I've managed to get a fair bit of reading done in the past little while.
I mentioned that I was re-reading the Spider Shepherd series of books. In April I had actually went through 6 of them.
His latest book comes out later this month, and so I went through the rest of them this past month. They are:
Rough Justice
Fair Game
False Friends
True Colours
White Lies
Such a great book series. One of my favourite book series ever. I still have all of the short stories to read – oddly enough I have yet to read ANY of the short stories even though I own them all. Something else I ought to do before his new book comes out.
I also read The Martian by Andy Weir. Holy moley what a good book that was. I'd thoroughly recommend it. I am not a big science fiction guy – I've read maybe one sci-fi book before which was the Martian Chronicles by Ray Bradbury.
The only reason I decided to read this book was because I watched some of the trailer and thought it was a neat concept. It's a book that's got mixed reviews – one of those where you either love it or hate it – but I'm firmly in the loved it camp, and would highly recommend it.
I also read the new Joseph Finder book "The Fixer". Yet another excellent story by Joseph Finder. If you've never read any of his books you're missing out – I write it every time he writes a new book, but the guy has a marvellous mind and an excellent ability for story telling.
Oddly enough I went back to books I read as a kid after all that, which was the Enid Blyton series of books Malory Towers. Haven't read those in about 30 years but I started them and just hooked. I love how quick they are to read too. I've already went through her Famous Five books and the Five Finder Outers series. I'll continue these(Read the first two) then may do the St Clares series.
Well that's it for this month. Hopefully going to do a lot more reading with the Summer and some nice weather. That's what I did a few days last week – sat outside in the sunshine and just read for an hour. Was nice and pink after!
Have a good one.
Book Series In Order » Blog »
One Response to "July 2015 Books I Read Recently"