Book links take you to Amazon. As an Amazon Associate I earn money from qualifying purchases.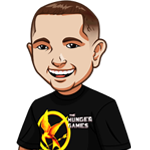 Written by Graeme
June was a pretty solid month for me when it came to reading.
In May I had read the John Wells series by Alex Berenson. I was in the mood for something different from a series in July.
So I decided to start reading some standalone thrillers and make that my Summer reading goal.
I first read the new book by The Girl on the Train author, Paula Hawkins. I have to say I was a bit disappointed in it. It's called "Into The Water" and while it was a good enough story – not something I'd recommend but an enjoyable enough read – I found myself really losing track of who is who and figuring out the characters etc.
It switched from multiple perspectives much like The Girl on the Train but in this one it was REALLY hard to keep track of who each character were. It didn't help that two of them had similar names.
I spent the first paragraph of each chapter having to stop to figure out who was who.
Honestly if you're going to read it have a notepad and just make notes of the characters. It'll be very helpful.
Then I moved onto "The Switch" by Joseph Finder. Finder never fails to amaze me – his ability to write a standalone thriller is incredible.
This one I loved the plot in more than others because it was something we could all easily relate to. The main character is going through airport security and accidently picks up the wrong macbook. No big deal – could happen to anyone. But the stuff he finds on the macbook and the measures the people whose book it is go to get it back – wow.
What I always like about Finder is the main character is reliable and you root for them pretty much instantly. He's got this great knack of having you cheer on the character and you can trust him. It's almost like Reacher-like, or in Finders case, Heller-lite.
The next notable one I read was The Widow by Fiona Barton. Not actually sure what motivated me to read that one. Maybe it was her latest book The Child coming out this month and she was in my mind. Great book – I thoroughly enjoyed it.
I read that and I finished it the day before The Child came out. Yet I couldn't just wait one more day for The Child – I needed to read something else that day.
And I got into a new series. Oops.
I wanted to spend the Summer reading standalone thrillers and instead I started the Gabriel Allon series of books by Daniel Silva.
If you've read them then you'll know just how good they are. And there's like a billion of them.
So looks like my Summer is going to be living the live of an Israeli assassin slash art restorer.
Could be worse!
Book Series In Order » Blog »