Book links take you to Amazon. As an Amazon Associate I earn money from qualifying purchases.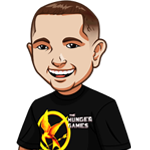 Written by Graeme
Sorry for posting this so late. I usually post it on the first of the month but I was traveling in the States then. Went to Washington for the debut of the All Elite Wrestling TV show Dynamite. It was a lot of fun and I thoroughly enjoyed Washington.
Even though it was a short trip, I'd love to go back there someday soon. The museums were cool and there was a lot of fun bars and nightlife.
As for reading last month here's what I read:
The Escape Room by Megan Goldin: I'd heard a lot about this one and so tried it out. Essentially 4 people from Wall Street are trapped in an elevator in an escape room challenge where the goal is to get out alive. This was a very well put together thriller. It wasn't perfect but it was an enjoyable thriller and one I would have no problem recommending to others. I'll try out Megans next book for sure.
The Killer Inside by Cass Green: Cass is an author I really enjoy and I have read all her novels. As soon as this one came out I started it. It's one of those books where two different stories blend together and it was very well done. I enjoyed this one a lot, and Cass continues to be excellent when it comes to writing thrillers.
The Terminal List by Jack Carr: I'll be honest I couldn't get into this one. I read it, but it just didn't connect with me in any way. Which is odd as on paper, this book is up my alley. A complete badass who is out for revenge and has a list of people to take out before a brain tumour kills him. I had it recommended to me a lot but I struggled to finish it.
Silent Lies by Kathryn Croft: I'd read all of Kathryns other psychological thrillers and was working my way through my list of authors trying to read all their books so decided on this one. It's a short book and a very quick read however I enjoyed it. Characters fleshed out well and they "got me" in terms of the twist. Even though I know the twists are coming in these type of books it was written very well in that regard. I enjoyed it nice little thriller that won't take long to read.
The Passengers by John Marrs: Marrs is a great author but I really like the route he is going with his latest books. This was a fascinating one written about 8 people in self driving cars that stop functioning as intended; and instead are all heading for a huge crash with each other and only one passenger will survive. His take on the future social media world etc is excellent. Marrs never disappoints. If you haven't started reading him yet, do so.
Forward Collection by Various Authors: This was a neat collection of futuristic stories written by various authors such as Blake Crouch and Veronica Roth. I thoroughly enjoyed it and there were two authors in that series I hadn't yet read – Tremblay and Towles. Reading their short stories has me interested in reading them in the future and the next book I am going to start will be by Paul Tremblay.
Book Series In Order » Blog »