Book links take you to Amazon. As an Amazon Associate I earn money from qualifying purchases.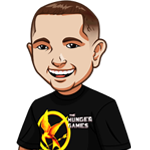 Written by Graeme
Welcome to September. This is the list of books I read last month.
I didn't get as much reading done quanity wise as I wanted to. There was two that were quite long and I was also away on vacation. Often I read on vacation more but this was one of those super busy vacations in Scotland where I don't get a chance to think as we're always off doing stuff. Not complaining though!
Void Moon by Michael Connelly: This is a standalone that is also part of the Bosch universe. It was a slow starter for me but after the first 10% I was hooked. It was great to read it from the perspective of the "bad guy" for a change and was an excellent, excellent book by Connelly. The fact that it took place in Vegas primarily helped too – as I go to Vegas often and so it really reached out to me in that regard. Excellent book and if you've skipped it as you generally only read the Bosch or Ballard series – I'd highly recommend reading it.
Then She Was Gone by Lisa Jewell: My mum recommended this psychological thriller to me. Interesting one and different from the usual in that the "big reveal" and the twist was made about 60-70% into the book as opposed to the end. Enjoyable book about a woman whose daughter goes missing years ago. Then she meets a new man whose daughter is the spitting image of the girl that went missing. My first time reading Lisa Jewell and I'll be checking out the rest of her thrillers.
Short Range by Stephen Leather: The latest book in the excellent Spider Shepherd series, which is one of my favourite book series. This one didn't disappoint. It's about Shepherd going undercover to infiltrate a possible domestic terrorist gang, as well as having some serious issues involving his girlfriend and son. I don't want to spoil too much but let's just say that if you've never read this book series before, you are missing out. Leather continues tob ring his "A" game time after time after time.
The Man from Taured by Bryan Alaspa: based on the urban legend. This was quite an interesting book. I'm into all the parallel universe stuff but it took a turn that I am usually not into. Despite that I really enjoyed it as I was invested so kept reading. Well worth reading this book as I ended up thoroughly enjoying it.
The One by John Marrs: Excellent book. Marrs is one of my favourite writers. It's about a dating service where it matches up peoples DNA based on the theory that there is only one perfect person for everyone out there. It follows 4 people who do the service to find the one. Seriously just an incredible book that I thoroughly enjoyed and would strongly recommend.
The Lions of Lucerne by Brad Thor: I had started the Scot Harvath series years ago but stopped reading it for some reason after 2-3 books. Not sure why but I was in the mood for some spy / badass thriller stuff and so went with this one. It was okay. Quite a bit rough and the action scenes weren't described as well as some authors do it. But it's a 17 year old book and his first one so willing to overlook that and will read more in this series no doubt.
What did YOU read last month? Post in the comments below…
Book Series In Order » Blog »