Book links take you to Amazon. As an Amazon Associate I earn money from qualifying purchases.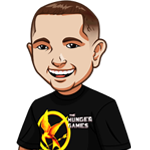 Written by Graeme
I've gotten into the weirdest niche with book reading these past couple of months.
I've always did that – I get into one type of book and then stick with it for awhile. There was a period of about 8 months where all I read was autobiographies for example. I remember an entire year where all I could do was soak up legal thrillers.
However the niche I'm into at the moment is the weirdest one for me. It's standalone thrillers.
Well wait…not just standalone thrillers. But those ones that are just trying to make a quick buck.
In case you're not aware, when the Hunger Games trilogy came out there was tons of copycats. I mean I even did an article on it.
With the success of Gone Girl by Gillian Flynn and Girl on a Train by Paula Hawkins there is a big trend happening right now. It's usually the same:
– Author is female majority of the time.
– Author has history writing in the media majority of the time.
– Book sells itself as a "psychological thriller" right there in the listing.
– Book description mentions "if you like gone girl and girl on a train".
– Female protagonist who has flaws (personally I like this but you see a lot of negative reviews mention this)
– Short chapters often switching perspectives.
– Book sells itself on a big twist ending.
And I'm hooked on it! There is so much wrong with some of these books too. Sometimes the author is clearly stringing you along just to keep the mystery going and it can be frustrating – but I find myself hooked.
Here's the ones I've read over the past couple of months:
I See You by Clare MacKintosh: A woman on a train home called Zoe sees her photo in the classified section for a sex line. Looking into it, it's revealed that every day its a different woman and often something happens to them (murdered, property stolen) etc. This was a good one although I wasn't fully satisfied at the ending. A twist just for twists sake.
I Am Watching You by Teresa Driscoll: A woman on a train – weird trend huh – hears two girls chatting to two men who just got out of prison. She is a bit concerned and debates calling the girls parents but decides against it. The next day one of the girls has gone missing. The book then goes on from a year on where the woman is feeling guilty and also starts getting threatening letters.
When You Disappeared by John Marrs: A mom of 3 kids wakes up to discover her husband has disappeared. It looks like he has died but then 25 years later he returns to her. This was a really clever one which took on both perspectives and jumped from past to present each chapter. Really dug this one. And an ending that you can generally figure out for the most part but it's still very satisfying.
In A Cottage In A Wood: A woman meets another woman on a bridge….moments before the woman throws herself over the bridge and kills herself. However she has left the other woman the cottage in the woods she owns – even though they've never met and are complete strangers. This was a chilling book and although I felt the general story was obvious I was still hooked and it had some solid twists.
That's just some of the main ones. I gave up on the Jericho Quinn series – just was a bit too over the top for me.
Book Series In Order » Blog »